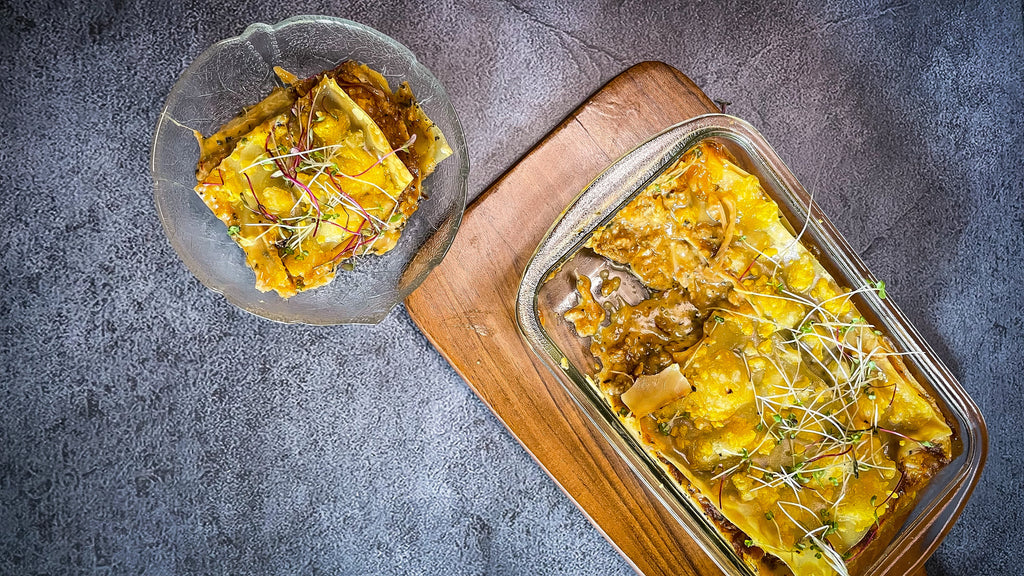 Desi Mutton Keema Lasagna Recipe
INGREDIENTS
1 cup of Blue Tribe Plant Based Mutton Keema

1 tbsp oil

4-5 cloves of garlic, minced

2 tsps of grated ginger

1 large onion, finely chopped

1 cup of tomato puree

½ tsp turmeric powder

2 tsps of coriander (dhania) powder

2 tsps of garam masala

2 tsps amchur (dried mango) powder

2 tsps of red chilli powder

Salt, to taste

2 tsps jeera (cumin) powder

1 tsp coconut sugar

50ml of water

6 Lasagna sheets, boiled to al dente

1 cup of vegan white sauce

Grated vegan cheese

Thinly sliced red onions
METHOD
1. Preheat your oven to 190 degrees Celsius. In a pan, add in some oil and sautee the garlic till it starts turning slightly brown. Add in ginger and onions and sautee till onions are translucent.

2. Now add in the tomato puree, spices and salt. Simmer for 4-5 minutes.

3. Add in the sugar, followed by the Blue Tribe Mutton keema. Add in 50 ml of water and cover to simmer for 5-6 minutes, stirring periodically.

4. Boil and prep lasagna sheets and grate your favourite vegan mozzarella cheese.

5. Layer the lasagna sheets with the plant based keema mix, white sauce, vegan cheese, red onions and oregano as shown in the video.

6. Bake at 190 degrees Celsius for 12-14 mins, till the top is golden brown.

7. Garnish with greens and serve hot!
Cart