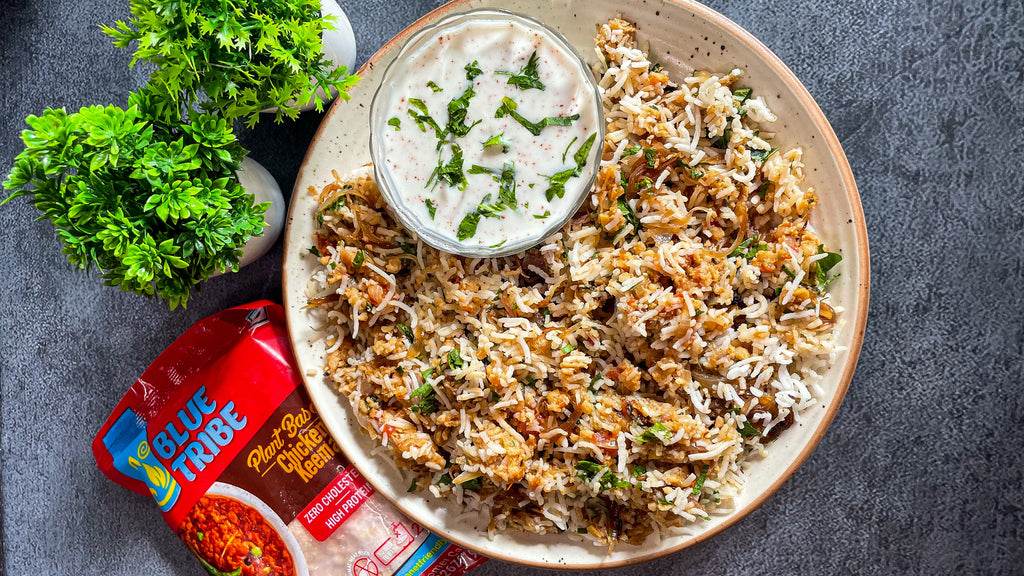 Chicken Keema Biryani Recipe
INGREDIENTS
1 pack of Blue Tribe Plant Based Chicken Keema

1 tbsp oil

2 green elachi, broken

1 black elaichi

1 inch cinnamon stick

6 cloves

8 whole black peppercorns

1 tsp jeera (cumin) seeds

1 cup of chopped onions

1 tbsp ginger, minced

1 tbsp garlic, minced

2 large tomatoes, finely chopped

1 tsp red chilli powder

Salt, to taste

1.5 tsps biryani masala

1 green chilli, finely chopped

1.5 cup of fried onions

1.5 cup chopped mint & coriander leaves

2.5 cups of cooked rice
METHOD
1. Saute the green & black elaichi, cinnamon stick, cloves, peppercorns & jeera in the oil till aromatic. Now add in the finely chopped ginger & garlic and saute for 1-2 minutes. Toss in the finely chopped onion & saute till the onions turn slightly brown.
2.

Now add in 1 pack of Blue Tribe Plant Based Chicken Keema and break any chunks with your spatula. Add in finely chopped tomatoes and keep cooking till tomato is mushy. Add in the spices and a dash of water. Mix well and simmer for 8-10 minutes to cook, stirring occasionally.

3.

Take a kadhai & add in half the keema mix. Add in a 3/4

th

cup of rice and spread out to evenly layer. Now add in some of the chopped mint & coriander leaves and fried onions, followed by a sprinkling of a tsp of garam masala. Then add the remaining keema & layer again the same way.

4.

Cover & cook on a low heat for 6-7 minutes

.
5.

Serve with a coconut raita & enjoy!
Cart