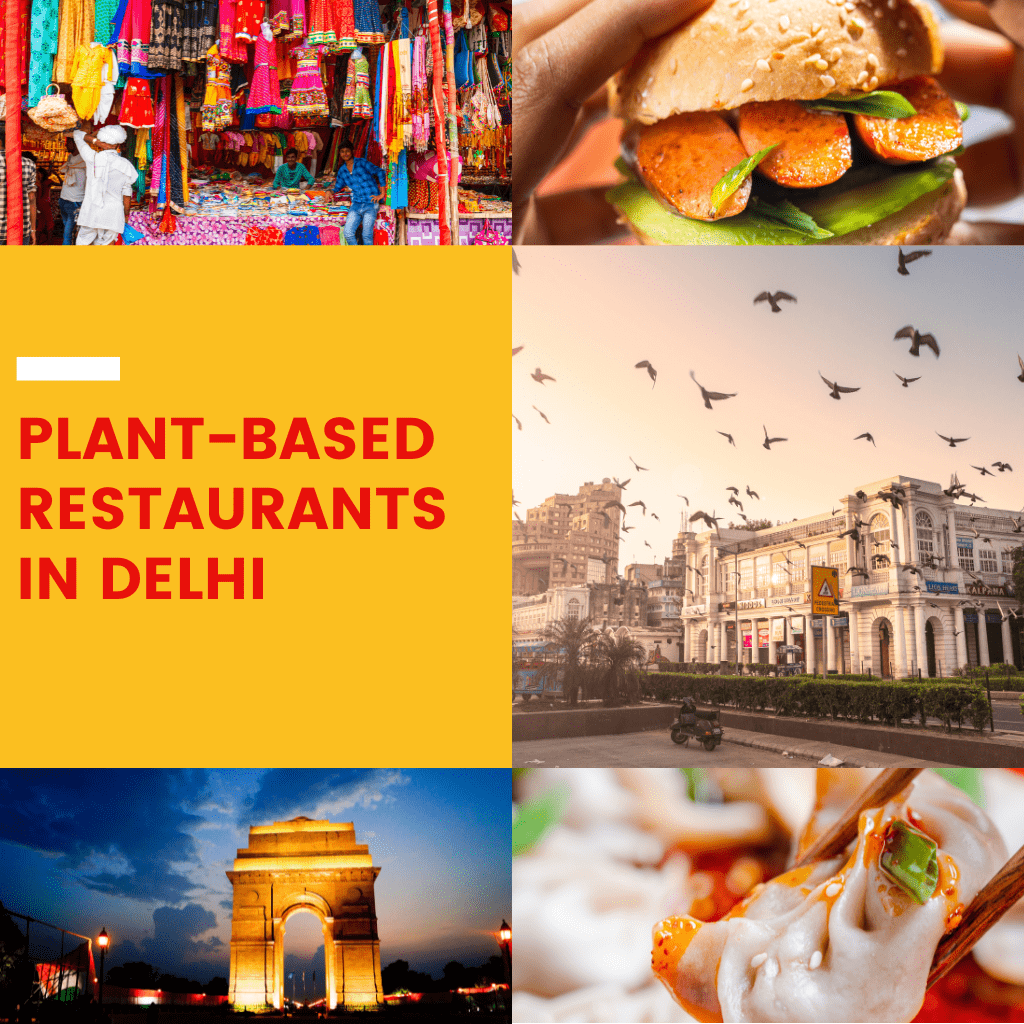 Restaurants in Delhi where you can enjoy Plant-Based Meat
Thinking of converting to a healthier, guilt-free plant-based diet?
You are not alone. Everywhere across the globe, people are becoming increasingly aware of the environmental impact of traditional animal agriculture and making a shift towards a plant-based diet. With an increasing number of people embracing plant-based lifestyles, the demand for meat alternatives has skyrocketed. 
Earlier plant-based meat options were rarely available in eateries. But, with the growing demand, restaurants all over India are catering to these evolving tastes. Delhi, our vibrant capital city, is no exception to this culinary revolution.
From delicious plant-based burgers to mouthwatering meatless sausages, the city's restaurants are offering plant-based alternatives, allowing vegans and vegetarians a guilt-free culinary experience.  
Curious to know which restaurants in Delhi are offering plant-based masterpieces that match their meat-based counterparts in taste, texture, and flavour?
Read about these fantastic 5 restaurants in Delhi that offer Blue Tribe's amazing plant-based delicacies.
Char'd Burgers and Beyond
Location: Malviya Nagar, New Delhi



Delhi's burger grill joint, Char'd Burgers and Beyond, blends European and Asian flavours, taking burgers to a whole new level. People flock to this restaurant to taste their mouthwatering chargrilled burgers that are a novelty to Delhiites.

However, the main attraction is the healthy, plant-based options you get here, such as BlueTribe's wholesome and nutritious plant-based chicken keema, a cruelty-free alternative, which is a blend of soy, lentils, and other plant products along with flavoursome spices that impart the same taste and texture as traditional keema.



Two Meaters Apart


Location: Sushant Lok Phase I, Gurugram, Haryana

Known for its high-quality food prepared from locally-sourced produce by passionate chefs, the restaurant is also a haven for healthy, plant-based alternatives. It is the place to go for yummy, flavour-packed meat alternatives that leave you wanting more.

Its nutrient-dense plant-based nuggets and chicken burger patty are the hot favourites of people looking for a meatless option to satisfy their hunger pangs.



The Oberoi Gurgaon 
Location: Udyog Vihar, Sector 19, Gurugram

For an exceptional dining experience and magnificent views, The Oberoi Gurgaon is the place to visit. Known for its Japanese, Chinese and Indian culinary delights, it is also popular for catering to diverse dietary preferences.

Its masterfully crafted plant-based options, especially its sausages, are loaded with essential nutrients like protein, iron, and fibre that please the palate with their delightful aromas and taste.





People of Tomorrow


Location:

Chhatarpur

, New Delhi





This new-age restaurant has won Delhi people's hearts with its innovative cuisine and commitment to sustainability. With a strong commitment to eco-friendly practices, this restaurant leads by example. It is known for its sustainable practices, like not using single-use plastic or cling films for storing food.



But what makes this restaurant stand apart is its succulent plant-based culinary wonders, including BlueTribe's delightful Perrperonis, salamis and nuggets that are dense in nutrients while tickling the palate with their delightful taste and flavour.




The Claridges Hotel


Location:

 

Motilal Nehru Marg Area

, New Delhi





With its old-world charms and contemporary furnishings, and other attractions like its temperature-controlled outdoor swimming pool, the Claridges Hotel offers a memorable dining experience with a variety of dining options.



Apart from its exceptional Mediterranean delights and North Indian food, the restaurants at the hotel serve delectable plant-based delicacies like BlueTribe's pepperoni and salamis, which are a true delight for meatless food enthusiasts. An iconic hotel renowned for its impeccable service, The Claridges is a must-visit for those who have turned vegan or have given meat for health reasons.




Conclusion
So are you ready to embark on a gastronomic journey with fantastic plant-based options at these top plant based meat Delhi restaurants?
Through this culinary adventure, discover BlueTribe's amazing variety of plant-based food, with vibrant flavours and nourishing ingredients that promote well-being while reducing your ecological footprint.
Cart